The Galactic Free Press Daily Update~7~3~12
http://soundofheart.org/galacticfreepress/content/galactic-free-press-daily-update7312-gifts-your-family-are-arriving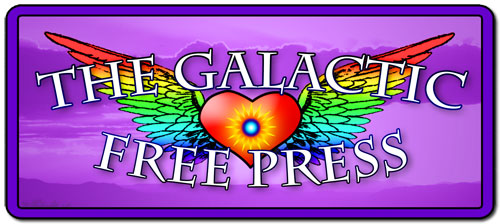 Bringing Humanity Home~ Energy and Event Update The Gifts from Your Family are Arriving~
Note from Wes: I have to say that I still don't quite resonate with the Pleiadian messages given through Micah, but I trust the discernment of dear Mother/Father God and will continue to post their updates which feature snippets of messages from Micah. All are invited to use their discernment. :) 
Greetings Love Beings, There is a Huge amount of Creational Energy Putting Pressure for Our Inevitable events to unfold before your Eyes. This Facet of the Divine Plan is in Full Activation and will be Undeniable in your experience. These are Gifts from Your Galactic Family and The Creator which are arriving to Humanity.
 Shared By Micah The Guardian Today "WE ARE CONFIRMING A SUPER CONCENTERED HIGH VIBRATIONAL LIGHT WAVE IS BUILDING ON THE SURFACE OF GAIA! THIS STANDING LIGHT-WAVE HAS A BEAUTIFUL GREEN GLOW AS SEEN FROM ABOVE AND STARTED RISING IN THE AM HOURS OF JULY 3RD AND WILL CONTINUE TO RISE THROUGH THIS EVENING PEAKING AT 11:11AM EDT ON THE MORNING OF JULY 4TH TO THE HIGHEST LEVELS IN THE KNOWN HISTORY CAUSING THE LARGEST CREATION MANIFESTATION EVER OBSERVED ON GAIA!
YOU WILL FEEL THIS WAVE IN THE BODY'S MAGNETIC FIELD STRONGLY AS THE 12[13] STRANDS OF DNA RESPOND TO THE LIGHT-PRESSURE-WAVE. YOUR DNA IS BECOMING SUPER ACTIVATED AS IT FINISHES CONNECTING TO THE 12[13] CHAKRAS IN AND AROUND THE BODY. AS THE BODY BECOMES LIGHT-ER (MER-KA-BA) YOU WILL EXPERIENCE THE PHYSICAL SENSATION OF THIS LIGHT BATH CAUSING HIGH LEVELS OF ENDORPHINS AND ADRENALINE TO BE RELEASED.
GLORY TO ALL THE EARTH FOR THE GREAT TIME (THE ASCENSION) OF MAN HAS FINALLY COME! YOU ARE THE LIGHT OF THE WORLD! THE KINGDOMS (FALSE-CONTROL-MATRIX) OF THIS EARTH WILL NOW FALL AWAY AND YOU WILL SEE A HEAVEN YOU CAN FINALLY WALK INTO!
PLEIADIAN CHANNEL
~MICAH, A GUARDIAN OF THE DIVINE PLAN FOR GAIA'S ASCENSION.
COMMISSIONED BY PRIME CREATOR
http://soundofheart.org/galacticfreepress/content/update-great-green-light-observations-independence#comment-17044
Daily Sun: 03 Jul 12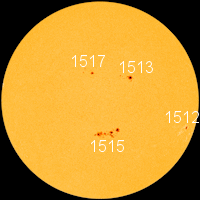 Sunspots 1513 and 1515 have 'beta-gamma' magnetic fields that harbor energy for M-class solar flares. Credit: SDO/HMI
We have Had an M1 Class and A C9 Class Solar Flare In the Last 24 Hours.  A Solar wind stream Will also be arriving tomorrow and currently our wind speed is at 558. We have had a Small quake appear in Tennessee today, and New Zealand Had a 6.2 Earthquake with little damage reported. For the third day in a Row 3/4's of the United States is Under Severe Weather Warnings.
DutchSinse Reports"34 states total with some form of severe weather.. hail, damaging winds, possible tornadoes, or strong cell thunderstorms" End of quote
Joy is the Real Reality, Real Unconditional Love, True Family, Unity, Equality, Abundance and Lots of Laughter with Good Vibrations. These are the Foundations of the New Earth=Heart which have now ascended into This Realm. The Light Has Arrived.
From Sheldans Update today "The time for changes is upon us all. Heaven has moved upon the Earth and decreed that a time for liberation and for freedom has arrived. Thus we are honor-bound to come forth upon the Earth and face in all diligence those who, in haste and sheer arrogance, have forgotten that they are merely temporary masters of this most magnificent realm. Our coming is to make these points absolutely clear to them and to pave the way for a new epoch for surface Earth's humanity. Nearly 13 millennia ago, you began to fall into the uneasy world of limited consciousness. This is a realm where it became relatively easy for your new masters and their trained minions to control and manipulate you. This time is now swiftly coming to a divine close. Actions have already begun which are to force those who have for so long ruled this land with impunity to let go of the reins. Our liaison teams and their many sacred companions are working hard to complete programs which will revitalize your world-a world where you are to be set free, and where, in sacred purpose, you can complete your journey to full consciousness….
Our mission here is ultimately related to first contact. We have come from afar to carry out the divine edicts of Lord Surea and to bring sacred comfort to you from the highest spheres of Heaven.
The great Seraphim from AEON have blessed you and us with a divine grace that will bring forth a new era upon the Earth. This new epoch will usher in a 5-D reality and a time of full consciousness for Gaia and for her many peoples…
The procedures now underway are in their final stage and so we have given the 'green light.' Look at this like the launch of a manned space flight at Cape Canaveral where all is in the final countdown. Many sequences need to be completed, and on the way some delays may happen. However, all is geared for takeoff once these final complex sequences are checked off. This is where we are now. We require honesty and trust, and therefore ask you to use your immense positive energies to ensure that this 'launch' goes off as planned. Our collective intention is fully focused on this. Many groups of Galactic Federation and our associates' personnel are working diligently to complete this on time. We fully believe that divine events will take place shortly which is to create a reality of peace, prosperity, and above all, freedom!…"End Of Quote
As Above so Below
We are Now confirming, as Above So Below! What this Means is the Etheric Realm is To Now Manifest Into Physicality. You All knew these moments would arrive, as We have been sharing for a Long Moment these Truths. Behind the Scenes we have been working for Years for these Moments. First we had to accomplish entering the Thoughts of Reality into the Collective Consciousness On the Planet. Now this Reality is to Unfold In Humanity's Presence.
 Micah~The Earth Allies on the ground and the Resistance Movement from inner earth are concerting efforts in tandem with the orbiting starfleet to commence actions by combining military force and advanced spiritual technology to inject super gamma light upwards into the 3D Earth Matrix.
You can now be informed that: 'As Above So Below' is the galactic code and tactical operation now implemented!
All light forces have exerted extreme pressure on the dark archontic clone-elite remains from above and below! All negativity left on earth will be forced to a higher dimension of light to be forever eliminated from this realm." End of Quote
http://soundofheart.org/galacticfreepress/content/above-so-below-we-are-underway#comment-17027
Decreed by Heaven, The Light Has Arrived to Planet Earth=Heart to Begin a Series of Events. As Above so Below as The Etheric Realm is to Manifest Into Physical Reality.This is the Divine Plan Manifesting Now On Planet Earth=Heart.
~Thank You for Spreading These Message's to Others and Keeping Your Hearts Open and Staying Tuned In~
We will Be Given Up to The Moment Events as They Unfold
Join US For a Special Live Internet Love Party Council Meeting Tomorrow For the 4th Of July Independence Day Party
Going Live 10:30am Pacific Time Zone at the Link Below
http://tinychat.com/soundofheart
~End Transmission in All Love is Unconditionally, We are So In Love With Humanity~
 If You missed our Last 2 Updates here are the Links:
http://soundofheart.org/galacticfreepress/content/galactic-free-press-daily-update62912-final-codes-and-green-light
http://soundofheart.org/galacticfreepress/content/galactic-free-press-daily-update7212-all-inevitable-events-are-process
We Love You Unconditionally~ Love The Galactic Free Press Staff~Humanity's Earth Allies, The Company of Heaven and The First Contact Ground Crew Team.
Thank You For Your Continued Support of Your Earth Allies and Those Who are Working 24 Hours a day 7 days a week on Behalf of the Freedom for Humanity. With Over 3500 Members Now and average 13,000 Hits a Day, if everyone shared a little we would make our Monthly Goal.
Since Our Last Update we Have received 0 Love Shares
Total Love Shares for July: $360
Love Fund Goal 3000$
 http://soundofheart.org/galacticfreepress/content/donate 
Thank you Everyone for Honoring US, Supporting Us, and SHARING WITH THOSE Who Are In Daily 24 Hour Divine Service to the Love and Truth On this Planet! Thank you for allowing us to Be Here.
Join us Live Every Saturday for the Internet Love Party.  At 1:30pm Pacific.To Help Bring in the Higher Energies. This will Be Announced On the Press Every Saturday. These Will Continue until Our Craft Decloak~
 
Every Wednesday we are Now Having our Council Meetings~Love Parties for the Transitionary Government. We will now announce these meetings on the Press at 10:30am Pacific time zone every Wednesday with a link for everyone to listen in.
 If You Would Like to Submit Your Artwork and Photo's You can Download them on Our New Site Here:http://soundofheart.org/gac/
If You would Like to connect with us via an amazing Awakening Session, to answer a question Contact Us Here: http://soundofheart.org/galacticfreepress/contact
~ We are Stationed In Mt Shasta~
MT. SHASTA ASCENSION
 Artwork Thanks to shala.lightworker.com
(Yojman Chase), Mt. Shasta is~of all Power Points here in the Northern Hemisphere~what could truly be called "Headquarters",  Mt. Shasta is many things to this planets protection and service into the Light. She is also known as Ascension Mountain.
 ~WE are Going Home~
~We Are the Real National Treasure. We Are not only The Heart of this Country, the United States, but Also the Very Heart of This Planet, Mother Earth=Heart. We Are The Love of the Planet, as well as the Universe Personified. We chose the United States to reside in, because We prepared this Part of the Planet, with the Constitution and Bill of Rights, for the Protection of The Truth and The Light for the Entire Planet. With this we Ensured Humanity's Complete Freedom from the illuminati minions control ~
~We Love You Unconditionally, Love Mother and Father God Amon Ra
 WE are Here~ Its US and Your Stuck With US!! Eternity here we come~
Angel Numbers Through Doreene Virtue~999 ~Completion. This is the end of a big phase in your personal or global life. Also, it is a message to lightworkers involved in Earth healing and means, "Get to work because Mother Earth needs you right now."
Nine: The spiritual meaning of number Nine bring us to the very height of vibrational frequencies in this number sequence. Nine represents attainment, satisfaction, accomplishment, and our success to achieve an influence in our circumstances. The spiritual meaning of number Nine deals with intellectual power, inventiveness, influence over situations and things. Nine beseeches us to recognize our own internal attributes, and extend these abilities out into the world to make a positive, influential difference.
 Response's to Sheldan Nidle's Update Today
http://soundofheart.org/galacticfreepress/content/update-sheldan-nidle-time-changes-upon-us-all#comment-17056
"This is wonderful news! 
Granted, you have been saying this for a long time, but I view that as marketing the vision of victory and triumph.  When enough people hold the same or similar vision, through the laws of quantum physics, it becomes a reality in the spiritual realm, and held continually, becomes our reality in the physical realm.
Thank you for holding this vision for us to share and co-create!
God bless those who walk in righteousness for His name's sake.
SoundOfHeart
On Earth as it is In Heaven
Submitted by IdahoSilver (unregistered) on Tue, 07/03/2012 – 16:03.
How many times is that prayed daily?  And those among us would doubt?  Ah well, Heaven on Earth Amen.  Why would anyone not believe that Something, Some How, Some Where, Some Time, the Great One of All would bestow it upon his Children in Some Form?
Just go look in a mirror.  Now look at your Hands.  Wiggle them.  Now tell me that All things are Possible–Probable.  Make the I Am giggle.
~Yojman Chase ~
Street~Wise Ascension
From the Joy of Mt. Shasta
16º
A Brief Recall of all Cycles
Converging Here on Earth
As the Great Love of the Hand of Holy Spirit
continues to assimilate all life forms
in, on, and around this Planet,
We – the Disciples of Holy Spirit/Mother God –
receive clearer information into the workings
of this new experience in the Galaxies…
FYI, Your God-Self knows only Perfection and Love,
a part of your Big Self knows both – here and there.
The great alignments are about Five Suns,
each one responsible for aligning
with Its overseer~parent Sun.
All are aligned except the Heart Sun of Humanity,
though very close to Our closest parent,
that being Helios and Vesta –
our local Sun (by whatever name).
So, because this activity
of 7 billion, on a far-out planet
returning to Oneness,
has never been witnessed anywhere,
it is good to chat with and breathe with
any of the several billion Celestials
that are here to assist. Be a direct part
of this awesome Restoration of a Race of Beings.
Bring in something brand new, Ahhh…
Cosmic Holy Spirit is Mother~Father God
living their Universe into Perfection
through all of us. Contemplate this!